BIOGRAPHY
His Excellency Julius Maada Wonie Bio was elected president of Sierra Leone on April 4, 2018. On May 12th, 2018 H.E Julius Maada Wonie Bio was inaugurated as the 5th President of the Republic of Sierra Leone. He is a retired Brigadier General in the Sierra Leone Army and he was the military Head of State of Sierra Leone from January 16, 1996 to March 29.  He initiated the peace process that brought peace to Sierra Leone and handed power to a democratically elected government.
The key elements of His Excellency's strategy for transforming Sierra Leone are investing in human capital development, investing in science, technology and innovations, ensuring efficient and effective management of the economy, and fostering good governance.  In this regard, President Bio became the first Sierra Leonean president to introduce free quality education for primary and secondary school students in public schools throughout Sierra Leone. President Bio has also eliminated application fees for students in government run public universities. He has rationalized domestic revenue mobilization and expenditure through a single treasury account.  He has established the Directorate of Technology, Science and Innovations and the Ministry of Technical and higher Education. In his fight to eradicate corruption, the human resource capacity of the Anti-Corruption Commission has been strengthened and has launched a commission of inquiry to eliminate corruption in government. More and more people are realizing the benefits of fighting corruption as looted monies are being paid back to the treasury.  The new President is also committed to the creation of an enabling environment to foster trade and investment.
H.E. President Bio completed his primary, secondary and undergraduate education in Sierra Leone. Always driven by a passion to serve his country, H.E. President Bio started his illustrious public service journey as a school teacher before joining the Sierra Leone Army where he rose through the ranks as Brigadier. He previously served as Chief Secretary of State, Chief of Defence Staff, Minister of Information, Minister of Marine Resources, Deputy Head of State, and ultimately as Head of State of Sierra Leone from January to March 1996.
After graduating from secondary school, the future president applied for admission into Fourth Bay College in Freetown in 1985 at age 21. However, he ultimately enrolled in the Republic of Sierra Leone Armed Forces military academy at Benguema, just outside the capital city of Freetown.
President Maada Bio graduated from the Military academy as a Second Lieutenant in the Sierra Leone Army in October 1987 at age 23. His first post as a commissioned officer was at the Lungi Garrison in Port Loko District in 1987, he was again re-posted at Lungi and trained by United Nations forces in aviation security. After the training, President Bio was transferred to Benguema as a platoon commander.
In 1990, the Sierra Leone Government contributed military personnel to the West African Peacekeeping Force, ECOMOG, which was mandated to keep the peace in the Liberian civil war.  President Bio and several other Sierra Leonean soldiers were deployed to Liberia as part of Sierra Leone's contingent to ECOMOG.
President Bio is a well-known Philanthropist and Humanitarian through the work of the Maada and Fatima Bio Foundation. The Foundation has donated food and other items to victims and families affected by the 2014 Ebola outbreak in Sierra Leone and during the environmental disasters of 2015.
President Julius Maada Bio is a graduate of American University in Washington, D.C with a Master's Degree in International Affairs. Most recently, he was a Senior Research Fellow at the University of Bradford, United Kingdom, pursuing a doctorate programme in Peace Studies.
His Excellency, the President, Brig. Rtd Maada Wonie Bio was born on May 12th 1964 in Tihun, Sogbini Chiefdom, Bonthe District. He was one of 35 children born to Paramount Chief Charlie Wonie Bio II, Sogbini Chiefdom.  H.E. President Bio credits his mother, Mamie Amie, as the person from whom he acquired all his driving principles in life – calmness, hard worker, and a staunch believer in God.
President Bio second Term Acceptance speech
---
VICE PRESIDENT
Dr. Mohamed Juldeh Jalloh was born in the Kono district by parents from Port Loko District. His mother hails from Kalangba, in the Lokomasama Chiefdom and his father from Tentefore, in the Kafu Bullom Chiefdom.
Dr. Jalloh, a devout Muslim started school in Kono, where he attended the Islamic Primary School and later graduated to the Koidu Secondary School. He then passed his Advanced Level qualifications at the Ahmadiyya Muslim Secondary School in Freetown. Dr. Jalloh graduated with a BA from the Fourah Bay College, the University of Sierra Leone before moving to Nigeria, where he obtained an MSc in Political Sciences from the University of Ibadan.
Following his solid academic track records, Dr. Jalloh was admitted to a Ph.D. Programme and obtained his Doctorates degree from the Institute of Political Sciences, the University of Bordeaux in France.
Dr. Jalloh started his professional career in the United Nations in March 2000 working as a Program Officer at the United Nations Mission in Kosovo (UNMIK).  Until recently, he worked as a Senior Advisor at the United Nations Stabilization Mission in Mali (MINUSMA). His extensive experience allowed him to provide strategic advice in overseeing the efficient functioning of the offices and pillar of the Deputy Special Representative of the Secretary-General who also served as the Resident Coordinator and Humanitarian Coordinator.
Dr. Jalloh also supported the Algerian-led mediation process of the Malian crisis. While at the United Nations Office for West Africa (UNOWA) and the Sahel in Senegal, he served as the Sahel Advisor to the Special Representative of the Secretary-General of the United Nations for West Africa and the Sahel. In that capacity, he co-lead the elaboration of the United Nations Strategy on the Sahel, and worked closely with the Peace and Security architecture of ECOWAS, the African Union-led Nouakchott process and later the G5 Sahel and several international NGO's active in security and governance issues.
During his work as West African Analyst for the International Crisis Group, Dr. Jalloh covered Liberia, Guinea, Sierra Leone and Guinea Bissau. Among others, he was responsible for writing renowned policy reports and articles on these countries and undertook numerous advocacy trips in several countries in Europe and Africa including at the ECOWAS, African Union and the European Union in Brussels.
During that period, Dr. Jalloh was interviewed and quoted by renowned news media such as the BBC, RFI, and Reuters. From 2004 to 2006, Dr. Jalloh in close collaboration with the Campaign for Good Governance pioneered and managed a European Union Civil Society Capacity building project in Sierra Leone. In that capacity, he worked with the Campaign for Good Governance in Sierra Leone, to support Civil Society groups and further reinforce democratic practices in Sierra Leone.
Dr. Jalloh supported Campaign for Good Governance program on public policy analyses and research including leading the study on quality education in Sierra Leone with other various stakeholders in Sierra Leone. As a research and teaching fellow at the Institute of Political Sciences, the University of Bordeaux in France, Dr. Jalloh has also been published in several book chapters as well as in reputed international journals.
Dr. Jalloh brings with him over fifteen years of substantial experience and a track record, including distinguished service in the above national and international institutions, organizations, and countries. His hard-work and competences have earned him an international reputation as a specialist in the fields of public policy analysis, governance, development and security issues.
This reputation has led him to hold the above central leadership, managerial and research type positions in the United Nations, the International Crisis Group, the University of Bordeaux and, in the Campaign for Good Governance in Sierra Leone.
---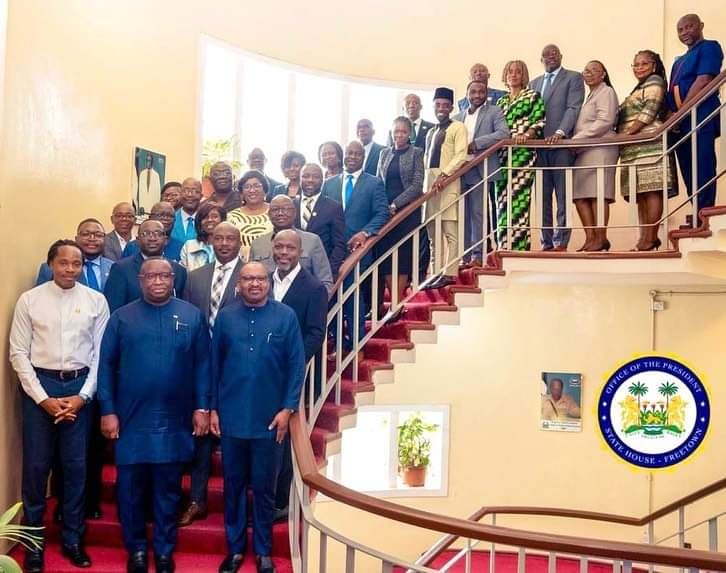 CURRENT PRESIDENTIAL CABINET
1)      Chief Minister | Dr David Moinina Sengeh
2)      Minister of Foreign Affairs | Timothy Musa Kabbah
3)      Minister of Finance | Sheku Ahmed Fantamadi Bangura
4)      Attorney-General and Minister of Justice | Mohamed Lamin Tarawalley Esq.
5)      Minister of Defence | Brig. (Rtd.) Kellie Conteh
6)      Minister of Agriculture and Food Security | Dr Henry M. Kpaka
7)      Minister of Energy | Alhaji Kanja Sesay
8)      Minister of Health | Dr Austin Demby
9)      Minister of Information and Civic Education | Mr Chernor Bah
10)  Minister of Internal Affairs | Major-General (Rtd.) David T.O. Taluva 
11)  Minister of Employment, Labour and Social Security | Mr Mohamed Swaray 
12)  Minister of Lands and Housing | Dr Turad Senessie
13)  Minister of Local Government and Community Affairs | Amb Tamba Lamina
14)  Minister of Fisheries & Marine Resources | Mrs Princess Dugba 
15)  Minister of Mines and Mineral Resources | Mr Julius Mattai 
16)  Minister of Planning and Economic Development | Ms Kenyeh Ballay 
17)  Minister of Public Administration & Political Affairs | Mr Amara Kallon 
18)  Minister of Basic & Senior Secondary Education  | Mr Conrad Sackey 
19)  Minister of Gender & Children's Affairs | Dr Isata Mahoi 
20)  Minister of Technical and Higher Education | Dr Ramatulai Wurie
21)  Minister of Trade and Industry | Mr Ibrahim Alpha Sesay 
22)  Minister of Transport and Aviation | Amb Alhaji Fanday Turay 
23)  Minister of Tourism and Cultural Affairs | Mrs Nabeela F. Tunis
24)  Minister of Water Resources  & Sanitation| Dr Sao-Kpato Hannah Max-Kyne 
25)  Minister of Works and Public Assets | Dr Denis Sandy 
26)  Minister of Youth Affairs | Mr Mohamed Orman Bangura
27)  Minister of Sports | Mrs Augusta James Teima 
28) Minister of  Social Welfare | Mrs Melrose Kaminty 
29) Minister of Communication, Technology & Innovation | Ms Haja Salimatu Bah 
30) Minister of Western Region | Amb Adekunle King